"A Festivus for the rest of us": 23 holiday TV episodes to watch online
It's December, so it's time to dust off those Christmas movies, those Christmas movies that aren't really Christmas movies, or whatever side of that wall you think Die Hard falls on. But what if you're in a holiday mood but not up for the whole two-hour jaunt to Bedford Falls? Or want something classic and familiar, but maybe a little more recent? Check out our list of almost two dozen classic TV holiday episodes: You can travel back in time with Quantum Leap or WKRP In Cincinnati, do a quick 20-odd minute holiday party psych-up with Community or 30 Rock, or check in to see what all the fuss is about on a newer show like Unbreakable Kimmy Schmidt or Crazy Ex-Girlfriend. And even if you're not down with the whole holiday season, we'll meet you over at the hip-hop Santa dance-off or at the Festivus pole for the annual airing of grievances. We've got a lot of problems with you people, and now you're going to hear about it.
---
1. The Office U.K. Christmas special (Netflix)
Things are rather bleak for the majority of the U.K. Office's concluding two-part Christmas special. Love-to-hate boss David Brent (Ricky Gervais) is no longer officially in the Slough office, traveling around doing sales calls. In a meta tack, he's also attempting to cash in on his newfound celebrity after The Office "documentary" with a series of degrading bar appearances, and trying and failing to find an acceptable date on Twitter. Gareth (Mackenzie Crook) is the new boss, Dawn (Lucy Davis, Wonder Woman's Etta Candy) is stuck out in California caring for her boyfriend's baby, and Tim (Martin Freeman) is trying his hardest to forget the girl that got away. Fortunately, everything comes to a head at the company Christmas party, where David finally finds someone who appreciates him, and stands up to sexist office assholes. Best of all, Tim and Dawn have the swoon-worthy reunion Office fans had been waiting for for two years. The U.S. version might have picked up this source material and run away with it, but there's a lot of stilted English charm to be found in these original Office episodes. [Gwen Ihnat]
---
2. Friends, "The One With The Holiday Armadillo" (Netflix)
Friends always made its Thanksgiving episodes the highlights of every season, so the fact that "The One With The Holiday Armadillo" became one of the most iconic episodes of the entire series feels like a Christmas miracle. Wanting to teach his son Ben (Cole Sprouse, now Riverdale's Jughead) about the Jewish holiday traditions, Ross is unable to find a Santa costume, so he settles for… an armadillo. "What are you doing here… weird turtle man?" asks a Santa-suit-wearing Chandler, and thus begins one of the strangest and most uproarious sequences of the series. Aside from the never-not-funny sight gag of David Schwimmer in the armadillo costume, the situation leads to badly timed presents and garbled holiday mythologies—including the arrival of Joey (Matt LeBlanc) in a Superman suit, ready to explain how the Man Of Steel flew all the Jews out of Egypt. Add to that Phoebe (Lisa Kudrow) bequeathing increasingly over-the-top presents to Joey in an effort to drive Rachel (Jennifer Aniston) out of his apartment and back into hers; Chandler (Matthew Perry)'s ham-fisted attempts to bribe a restaurant host to snag a quicker table for his date with Monica (Courteney Cox); and a story about a cat eating a tarantula (it doesn't end well), and this is a perfect addition to any holiday sitcom binge. [Alex McLevy]
---
3. Seinfeld, "The Strike" (Festivus)
"The Strike" is the Seinfeld episode that keeps on giving—from "two-face" to "the airing of grievances," this late entry is chock-full of terms that made their way into the pop culture lexicon. But the biggest boon of all is easily the Festivus holiday, which was created by Frank Costanza (Jerry Stiller) in a misguided attempt to cast off the shackles of Christmas materialism, and has taken on a life of its own outside the show. As Elaine (Julia Louis-Dreyfus) observes, the austere festivities and father-wrestling make up another piece of the George Costanza (Jason Alexander) puzzle, which, if it were ever fully assembled, would probably resemble that Edvard Munch painting. Eventually, though, everyone finds something to like in Festivus: Kramer (Michael Richards) makes it part of his labor fight with H&H Bagels, while George tries to talk his way out of embezzlement by inviting his boss to the Costanza holiday dinner. The spirit of Festivus isn't enough to get Elaine a free sub, but it does bring Pulitzer Prize winner Tracy Letts into the mix. [Danette Chavez]
---
4. The OC, "The Best Chrismukkah Ever" (Hulu)
Seth Cohen (Adam Brody) endorses many things across The OC's four seasons—the songwriting prowess of Ben Gibbard, the therapeutic value of telling your troubles to a toy horse—but his most fierce advocacy is reserved for a hybrid celebration born of his parents' interfaith marriage. Ladies and gentiles, The OC proudly presents Chrismukkah. "The greatest superholiday known to mankind" made its debut at the midway point of the nighttime soap's first season, in an episode encompassing many of the attributes that helped The OC seize the early '00s zeitgeist: A dash of culture clash, a love triangle, the trials and tribulations of young Marissa Cooper (Mischa Barton), secretive land deals, a timely (if not exactly timeless) soundtrack, and the eternal conflict between Seth's sharp tongue and his big fat mouth. And thus does our intrepid pioneer of winter solstice revelry discover that best-of-both-worlds logic does not apply to budding high-school romance, building to the most awkward Lasso Of Truth moment this side of David E. Kelley's busted Wonder Woman pilot. To paraphrase the jingly-jangly Ron Sexsmith carol that plays over the episode's So-Cal slo-mo shopping-mall montage: Maybe next Chrismukkah, Cohen. [Erik Adams]
---
5. Futurama, "Xmas Story" (Hulu)
Futurama's first-ever Christmas—sorry—Xmas episode gives you the best of both worlds: a touching story that hits on all the usual holiday themes and a wacky showdown with a killer Santa robot. What seems to be a story about Fry's trip to the future costing him the family togetherness and traditions that many long for during this season turns out to be an even sadder look at Leela's lonely upbringing and what it means for her holidays. After selfishly whining to her about his slightly less depressing situation, Fry sets out to make it up to his Cyclopean crush but ends up needing rescuing, which brings the two together and the show to its stereotypically sweet Christmas-episode ending. Of course, that also happens to be when Murder Claus explodes onto the scene and turns this "Xmas Story" into a pleasantly deranged action-comedy that comes with its very own twisted carol. [Matt Gerardi]
---
Keep your SantaCons and ugly-sweater parties: The true meaning of Christmas kitsch can be found in this parade of tinsel-strewn madness led by grand marshal Pee-wee Herman. A holiday-themed, primetime edition of Paul Reubens' Saturday-morning flagship, the Pee-wee's Playhouse Christmas Special treats holiday cheer as the ultimate upper, as the manic spirit of the eponymous man-child sweeps K.D. Lang into a "Jingle Bell Rock" reverie and provides an appropriately bizarre backdrop to Grace Jones' digitally slick take on "Little Drummer Boy"—the only recording of that seasonal staple that's ever been worth a damn. Like Christmas itself, Pee-wee's Playhouse doesn't distinguish between high art and low culture, choosing instead to slam them all together into a dense fruitcake of sincerely lively performances, knowingly corny jokes, and a segment where Cher drops by to get the secret word—and that's it. [Erik Adams]
---
7. Gilmore Girls, "The Bracebridge Dinner" (Netflix)
The odd rituals and traditions of Stars Hollow are always inviting, but in the case of Gilmore Girls' "The Bracebridge Dinner," the townsfolk themselves are the guests. When a group of out-of-towners are forced to cancel their travel plans to the Independence Inn for a lavish Elizabethan feast, Sookie (Melissa McCarthy) and Lorelai (Lauren Graham) decide not to let the preparations go to waste, inviting a good portion of their neighbors (along with Lorelai's parents) to sit down at the lengthy dinner table and enjoy the show. So while everyone savors the image of Jackson (Jackson Douglas) stiffly delivering pronouncements in his regal garb, festive drama is afoot. Richard (Edward Herrmann) has quit his job without informing Emily (Kelly Bishop); Jess (Milo Ventimiglia) steals a private sleigh ride with Rory (Alexis Bledel), who continues to insist she has no interest in him and is happy with Dean; and Lorelai has a minor panic attack about not wanting Rory to spend any of her precious holiday break with her father and his new girlfriend. Of course, this being Gilmore Girls, all the drama is handled with mile-a-minute banter and effervescent wit, meaning no argument is more than a few seconds away from another pop culture reference. It's brimming with soapy cheer—and a snowman-building contest that receives some last-minute meddling. [Alex McLevy]
---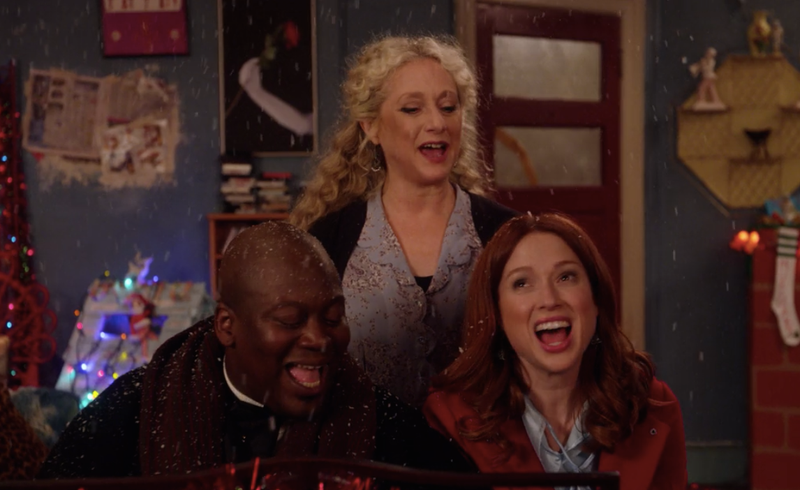 Kimmy Schmidt (Ellie Kemper) missed out on a lot of holidays in the 15 years she spent underground in that bunker, and in season two's "Kimmy Goes To A Hotel!" she's celebrating Fake Christmas to make up for lost time. "I think this is cute. And a little weird, like a bunny with human teeth," says Lillian (Carol Kane) when the episode opens on Kimmy topping her tree. The holiday starts off with about the greatest gift Kimmy could ask for: evidence that Dong (Ki Hong Lee) still has feelings for her. The two then rendezvous to celebrate Fake Christmas in the Poconos, running the halls and ransacking the snack machines of an old abandoned hotel/federal raccoon sanctuary. In the end, their night together lands Dong in immigration trouble, while Titus (Tituss Burgess) uses his own Christmas Carol storyline—or, in his words,"the group's only adventure"—as an excuse to quit his job, and yet, the episode closes with the two gathered around the piano with Lillian to celebrate Fake Christmas exactly how you should, "with your fake family" under asbestos snow. [Kelsey J. Waite]
---
9. South Park, "Mr. Hankey, The Christmas Poo" (Comedy Central)
Christmas has been embedded in South Park's DNA since The Spirit Of Christmas shorts that first launched Trey Parker and Matt Stone's careers, but Mr. Hankey actually predates even that. Parker and Stone first conspired to create a cartoon around the anthropomorphic, happy-go-lucky turd—based on a traumatizing story Parker's father had told him during toilet training—and later even pitched a proto-South Park called The Mr. Hankey Show, with the talking poop as its main protagonist. But it wasn't until the ninth episode of Comedy Central's non-shit show that Mr. Hankey finally got to make his big splash, popping out of the toilet to teach the town about the real reason for the season: just being happy for one godforsaken day on this miserable planet and baking some cookies. It's a secular, "sick little monkey" spin on A Charlie Brown Christmas that's deservedly become a holiday perennial in its own right, skewering the annual freak-out over religious sensitivity that tends to suck so much joy from the holidays, while at the same time providing some of the catchiest, dirtiest, Christmas-ish songs to ever be added to the canon. [Sean O'Neal]
---
10. WKRP In Cincinnati, "Bah Humbug" (YouTube)
The Christmas Carol trope is a plot TV shows have turned to time and time again, but never in such an endearing fashion as WKRP In Cincinnati. In the show's season-three holiday episode, radio station boss Arthur Carlson (Gordon Jump) is ready to stiff the staff on their year-end bonuses. Then he accidentally eats one of Dr. Johnny Fever (Howard Hesseman)'s magical brownies, and is visited by those spirits of Christmas Past, Future, and Present. The past view may be the most endearing, as we get to see a young and bright Les Nessman (Richard Sanders) as an office boy, alongside some classic salesmen from an earlier media era. But the bleak future Christmas predicts a stark, mechanized radio system, with no DJs at all. Naturally, a chastened Carlson wakes up in a much more generous mood, cementing one of TV's best workplace families. [Gwen Ihnat]
---
11. Quantum Leap, "A Little Miracle" (Amazon)
As mentioned above, there are nearly as many Christmas Carol adaptations as bodies inhabited by the time-hopping Dr. Sam Beckett (Scott Bakula), but give credit to Quantum Leap for putting its own distinctive, theoretical physics spin on it. Season three's "A Little Miracle" finds Sam leaping inside the personal valet to a wealthy industrialist (former SNL player Charles Rocket), tasked with showing his boss the error of his ways on the Christmas Eve before he tears down a Salvation Army. Fortunately, a little contrivance—in the form of said miser sharing Sam's brainwave frequency—allows the holographic Al (Dean Stockwell) to play the ghosts of Christmas Past, Present, and Future, and thus scare this would-be Scrooge straight. True, it's a story you've seen a dozen different times in a dozen different ways, but its endlessly malleable spirit keeps visiting us for a reason—and seeing it filtered through Quantum Leap's quirky sci-fi conceit makes its feel unexpectedly new. [Sean O'Neal]
---
12. Crazy Ex-Girlfriend, "My Mom, Greg's Mom and Josh's Sweet Dance Moves" (Netflix)
The holidays often bring everyone's family issues to light, and Crazy Ex-Girlfriend doubled up on the domestic drama in the series' first-season holiday episode. Rebecca (Rachel Bloom) swaps all of her Christmas decorations for Hanukkah ones to please her visiting (and severely critical) Jewish mother (Tovah Feldshuh), while Greg (Santino Fontana) drafts sardonic Heather (Vella Lovell) to come with him as he goes to visit his own estranged mom (Thirtysomething's Mel Harris). As so often wraps up neatly in a TV hour, parents and offspring somehow manage to bridge the resentment gap that's been separating them. But nothing tops the episode's musical finale, "California Christmastime," which acknowledges the futility of trying to pull off the perfect winter holiday in a place with no snow, while also completely owning it. It's one of the few numbers from the show that pulls in every main character, all dancing like they're in an MGM musical. Bloom is especially exuberant trying to sell the charms of this unconventional Christmas, and Josh Chan (Vincent Rodriguez III) does indeed have some sweet dance movies. [Gwen Ihnat]
---
13. New Girl, "Santa" (Hulu)
By the second season of New Girl, the show had fortunately bypassed "adorkability" in favor of becoming a chemistry-rich hangout sitcom, with earnest Jess (Zooey Deschanel), pretentious Schmidt (Max Greenfield), scruffy Nick (Jake Johnson), and hapless Winston (Lamorne Morris) somehow jelling into a makeshift twentysomething family that excelled in playing off of each other. At the beginning of "Santa," they're even engaged in a cranberry fight. A holiday party hop becomes an excellent chance to highlight everyone in the small, strong cast: Jess still has feelings for recently departed Sam (David Walton), Schmidt is still stinging from a rejection from Cece (Hannah Simone), Nick is trying to come to terms with dating hot stripper Olivia Munn, and Winston has a cranberry stuck in his ear. When Santa eventually shows up, we expect Jess to be immediately accepting of a Christmas miracle, but the fact that everyone else gets on board makes it easy for us to as well. [Gwen Ihnat]
---
14. BoJack Horseman Christmas Special, "Sabrina's Christmas Wish" (Netflix)
BoJack Horseman (Will Arnett) calls holiday episodes "cynical cash grabs by greedy corporations looking to squeeze a few extra Nielsen points out of sentimental claptrap for mush-brained idiots who'd rather spend their Christmas watching a fake family on TV than trying to have a conversation with their own dumb families." And he oughta know. As the star of the seminal schlocky sitcom Horsin' Around, he churned out several. But while we usually only get glimpses of our star's signature series on BoJack Horseman, "Sabrina's Christmas Wish" offers us the chance to see an entire episode of the '90s family sitcom sendup, down to Ethan's failed attempts to get a catchphrase off the ground, the overexuberant studio audience, a wacky neighbor (Fred Savage), and unyielding boss (Stanley Tucci). There are a multitude of painful puns and easy joke layups familiar to anyone who's ever seen a single episode of shows like Family Matters and Full House. But somehow, even this idealized sitcom cheese brings BoJack and Todd (Aaron Paul) a little closer together on Christmas—and isn't that what holiday TV episodes are really about? [Gwen Ihnat]
---
By season four, Parks And Rec was in full swing, and this Christmas episode shows how strong the ensemble cast became with the addition of Adam Scott and Rob Lowe, and how well the writers had their formula down. The best Parks And Rec episodes hang their plots on the strong structures of friendships, and "Citizen Knope" might be the entire show's single best case of the strong bonds between the work-family of the Pawnee Parks Department. Polling at 1 percent after her trial and subsequent suspension for dating Ben (Scott), Leslie (Amy Poehler)'s campaign managers drop her run for city council. But her friends in the Parks Department—as well as Rashida Jones' Ann and Chris Pratt's Andy—are there to pick up the slack, offering to fill the roles of the absent campaigners. It's heartwarming, it includes a gingerbread model of the parks department office, and even the non-holiday plots are great—like Ben's interview to work at an accounting firm and a cameo from Jean-Ralphio (Ben Schwartz). [Caitlin PenzeyMoog]
---
16. The Mindy Project, "Christmas Party Sex Trap" (Hulu)
The recently wrapped up Mindy Project got off to a bit of a rocky start, but as the show hit the midpoint of its second season, it was finally beginning to hit its stride. The disparate office ensemble had begun to gel, Happy Endings' Adam Pally had recently added a much-needed shot of bro-fueled testosterone to the cast, and the chemistry-laden banter between then-platonic friends Danny (Chris Messina) and Mindy (Mindy Kaling) had reached almost peak will-they/won't they. Everything came to a head in "Christmas Party Sex Trap,"
The Mindy Project's first truly great episode. Mindy is out to snag cute lawyer Cliff (Glenn Howerton) at the office holiday party, but Danny has a secret weapon: his Secret Santa present, a perfect reenactment of an Aaliyah dance that is not about to leave Mindy's (or anyone's) mind anytime soon. Meanwhile, compulsive eater Jeremy (Ed Weeks) has demolished Danny's gingerbread recreation of Monticello, Maria Menounos (as herself) swipes Mindy's signature Santa song, and everything ends in appropriate chaotic catastrophe, like all sitcom office holiday parties should. [Gwen Ihnat]
---
17. 30 Rock, "Ludachristmas" (Hulu)
30 Rock had a ton of great secondary characters—like Tracy Morgan's Tracy, Jane Krakowski's Jenna, Jack McBrayer's Kenneth—but the show's true center was the push-pull between Alec Baldwin's corporate shark Jack Donaghy and Tina Fey's honest-to-a-fault Liz Lemon. So the show's best holiday episode delved into why these two were exactly the way they are, by pitting their families against each other. The Lemons (Buck Henry and Anita Gillette) are unfailingly supportive, with positive reinforcement on everything from shoelace tying to muffin eating. And we already know that Jack's mom, Colleen (the incomparable Elaine Stritch), rules over her son with a never-ending storm of criticism. When Jack dons a Christmas sweater to join the Lemon family—brimming with the affection he never received as a child—Colleen sets out to knock them all down, and accomplishes this with considerable ease. With the Lemons all at each other's throats, Jack and Colleen toast each other over a quarreling dinner table that's holiday-familiar to most of us—a biting ending with a surprising dose of sweetness, the kind of combo 30 Rock frequently pulled off with aplomb. [Gwen Ihnat]
---
18. Community, "Abed's Uncontrollable Christmas" (Hulu)
There's a funnier Community Christmas: season one's "Comparative Religion," in which Donald Glover wrings every last laugh out of a single, monosyllabic word. There's an equally ambitious Community Christmas: season three's "Regional Holiday Music," in which the writers' circa-2011 grievances against Glee are set to toe-tapping original songs (and one off-key Britta ad lib). There's also a gas-leak Community Christmas, but we don't talk about that—and why would we, when "Abed's Uncontrollable Christmas" taught us all we need to know about moving past painful yuletide experiences. Rendered in stop-motion animation that's somewhere between A Claymation Christmas Celebration and Rudolph The Red-Nosed Reindeer, the study group races to free Abed (Danny Pudi) from a delusion that runs much deeper than its TV-special trappings. It doesn't represent the show's seasonal peaks of joke-telling or songwriting, but in its story of a chosen family banding together to support one of its own (whose biological family has chosen not to be with him), "Abed's Uncontrollable Christmas" drills right to the emotional core of Christmas and Community. [Erik Adams]
---
19. The Simpsons, "Marge Be Not Proud" (Amazon)
If the saying "I'm not mad at you, I'm just disappointed" were a TV episode, it would be this one, the most touching Bart-and-Marge story in The Simpsons' three-decade run. Inspired by an incident of petty larceny from writer Mike Scully's past, "Marge Be Not Proud" is a tender tale of a perpetual naughty-lister who'll do anything to get the year's hottest, priciest, goriest gift, and the mother who's coming to realize that the Simpsons aren't the people they play in their Try-N-Save family portrait. They're more complicated than that, and so is Christmas, the anticipation, expectations, disappointments, and small joys of which (and of "Marge Be Not Proud") will be familiar to anyone who's ever wished for their own personal Bonestorm, only to unwrap Lee Carvallo's Putting Challenge instead. It's vintage Simpsons, gut-busting ("WELCOME THRILLHO") and tear-jerking (Bart and Marge's ultimate reconciliation) at the same time, and there's even an appearance from that stout, white-haired, crinkly eyed symbol of the season. We speak, of course, of special guest star Lawrence Tierney. [Erik Adams]
---
20. The Office (U.S.), "Christmas Party" (Netflix)
In addition to featuring what might be the most disastrous Secret Santa exchange ever, "Christmas Party" is a perfect example of how rarely Michael Scott (Steve Carell)'s expectations line up with his reality. The oblivious office manager tries to boost morale after the recent downsizing with an office Christmas party, but ends up insulting virtually everyone, especially Phyllis (Phyllis Smith). In a typically bungled display of largesse, Michael exceeds the $20 Secret Santa spending limit to buy Ryan (B.J. Novak) a video iPod. It never occurs to him that in consciously trying to outdo everyone else participating, he'd be overshadowing the $20-and-under offerings that make up the rest of the gifts. This incongruity between presents prompts the "Yankee Swap" or "Nasty Christmas" exercise that then proceeds to wreck the staff's celebration and Michael's hopes for a perfect Dunder Mifflin Christmas. Eventually, a whole lot of spirits raise everyone's spirits, but not before Jim (John Krasinski)'s burgeoning crush on Pam (Jenna Fischer) is almost revealed (again) and Meredith (Kate Flannery) breaks her New Year's resolution ahead of schedule. [Danette Chavez]
---
Not a fan of the holidays? Commiserate with Happy Endings' Jane (Eliza Coupe) in season three's "No-Ho-Ho." It is revealed that Jane is a December 25 baby, which causes her to hate the holiday. Her friends try to focus on "Jane-mas" instead, but Max (Adam Pally) is already addicted to eggnog, Alex (Elisha Cuthbert) can't wait to open presents, and everyone wants to dance off against the hypnotic mechanical hip-hop Santa. Jane leaves and finds a Christmas birthday support group, which unfortunately turns out to be more nefarious than it appears at first glance. By season three, the Happy Endings cast chemistry was like a well-oiled machine, enabling them to perfectly pull off choreographed slapstick like an en-masse pepper spray attack, or an ill-timed eggnog explosion. Nothing may beat everyone's futile attempts to out-dance that hip-hop Santa, though; even Jane gets on board by the end, because what mere human could resist? [Gwen Ihnat]
---
22. Mad Men, "Christmas Waltz" (Netflix)
Nobody ever has a good Christmas on Mad Men—probably because the show's main characters are directly involved in manufacturing the holiday's most hollow, materialistic elements—but Joan Harris is having herself an especially un-merry time in "Christmas Waltz." She's getting divorced. She's venting her frustrations on the office furniture. (Cue Christina Hendricks' best Mad Men punchline: "Surprise! There's an airplane here to see you!") She can't even fully enjoy the pairing of hooky and cocktails without other barflies stepping on her toes, so to speak: "Look at all these people dancing to my music," she says after plugging a few songs into the jukebox. Fortunately, the person on the stool next to her is Don Draper (Jon Hamm), and their day-drunk commiseration is a spot of cheer amid the winter darkness at Sterling Cooper Draper Pryce, whose employees aren't getting what they asked for—domestically, professionally, financially, or spiritually. But, again, they're in advertising: They're well versed in pretending like fulfillment can be found beneath the tail of a star (or a tale of a Star Trek) or a hood of a car. [Erik Adams]
---
As we said when writing up an appreciation of this particular episode a couple years ago, most holiday specials fail to capture "just how dark Christmas despair can get." Not so in fourth-season installment of Buffy The Vampire Slayer "Amends." This is a holiday episode that isn't afraid to embrace the darkness. Vampire-with-a-soul Angel (David Boreanaz) is haunted (quite literally) by all the people he killed during his years of evil, and seeing no way out of the predicament, he eventually decides to end it all. Rather than some treacly feel-good "I see the error of my ways!" conclusion, here there's nothing but an unexpected snowfall to stave off his suicide by sunlight. Sure, there are some good laughs—Willow (Alyson Hannigan) turns on the Barry White music in an effort to seduce Oz (Seth Green)—but mostly, it's just a fable about the necessity of going on, even in the face of ongoing sadness. It sounds grim, but it ends up strangely uplifting, which isn't unusual for this one-of-a-kind show. [Alex McLevy]
Vía https://www.avclub.com/a-festivus-for-the-rest-of-us-23-holiday-tv-episodes-1820993184 ʕ ᴖᴥᴖʔ Subscribe to me here on Youtube!