Thursday's Best Deals: Board Game and PC Gaming Gold Boxes, Dyson Vacuums, and More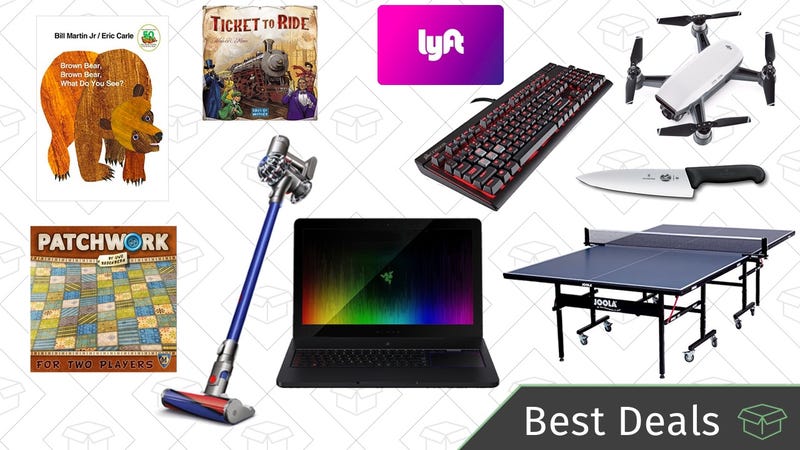 Game on with board game and PC gaming equipment Gold Boxes, plus save some money on Dyson vacuums and a whole lot more.
Bookmark Kinja Deals, follow us on Twitter and Facebook, join our Kinja Deals Community group, and sign up for our Kinja Deals messenger bot for the latest updates!
https://kinja.com/ajax/inset/iframe?id=twitter-936337446291337218&autosize=1
Top Tech Deals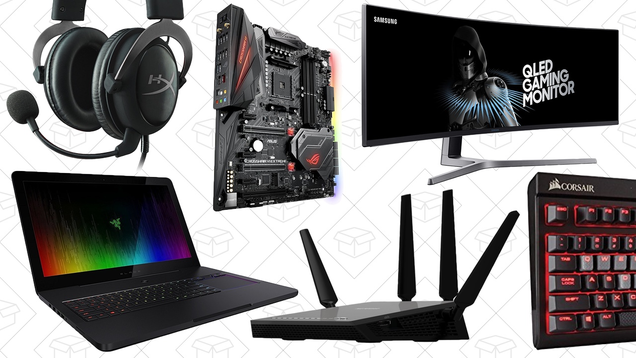 Amazon's back at it again with another PC gaming-focused Gold Box deal, this time with great deals on monitors, motherboards, routers, and tons of full-on gaming laptops and PCs, including an all-time low price on this maxed out 17" Razer Blade Pro.
If you don't feel like dropping nearly $4,000 today, there are a lot of other affordable luxuries in here, including the HyperX Cloud II headset for $70 (also compatible with PS4), Corsair's Strafe mechanical keyboard for the same price, and a 24" gaming monitor with 2ms response for just $100.
Oh yeah, that 49" curved Samsung ultrawide you saw on Cyber Monday? That's back too.
For the rest of the deals—and there are a lot of them—head over to Amazon.
---
DJI's Spark is the most exciting new drone of the year, and this is the best deal we've seen on it to date, including Black Friday. $399 gets you the drone, an extra battery (worth about $45), and a $75 eBay gift card, while supplies last.
The Spark is roughly the size and weight of those cheap toy drones you see out there, but with significantly better flight time and performance, an automatic follow-me mode, and most crucially of all, a gimbal-stabilized 1080p camera that shoots some seriously great footage.
---
Know of anybody that's planning to travel abroad and/or flee the country in the near future? This $10 international plug adapter is compact, and includes two USB charging ports in addition to a universal AC outlet. Just be sure to use promo code KINJA250 at checkout to get the deal.
---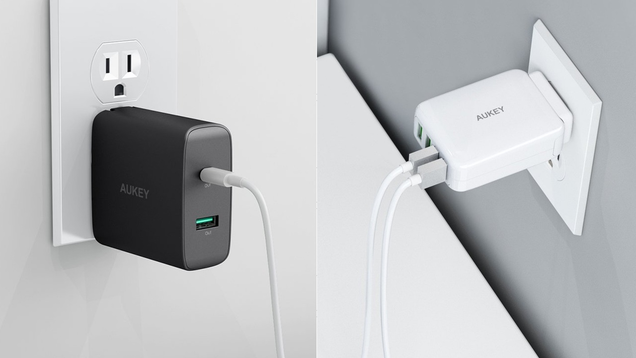 You can never have enough USB chargers, and a couple from Aukey are deeply discounted today.
The more interesting of the two is this 46W USB-C Power Delivery charger for $28. That sits in-between the 29W charger that Apple ships with 12" MacBooks, and the 61W model that comes with the 13" MacBook Pro, but it's of course far cheaper than both. It also has a standard USB port, so you can charge your phone while your laptop or Nintendo Switch occupies the high power port.
For $12, you can also pick up a four-port charger that's great for travel. It only packs in 24W of total power, so if you plug something into every port, it's going to be fairly slow, but it would still be great for overnight gadget charging.
---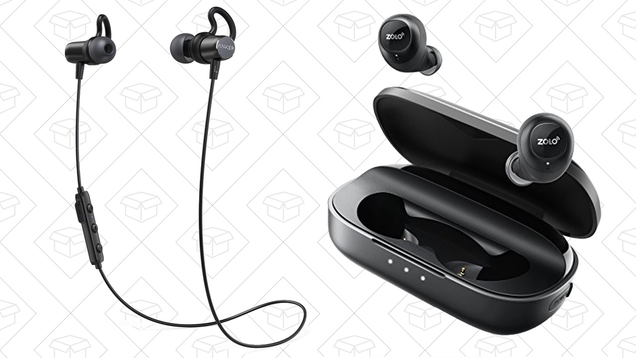 Anker's SoundBuds have long been reader favorites, and two different options are on sale right now for the holidays.
For just $18 (with code SUPER236), you can grab the SoundBuds Surge lightweight Bluetooth headphones. With magnetic connectors on the earpieces and a water-resistant coating, these would be a great addition to your gym bag.
And if you missed it earlier this week, Anker's brand new Zolo Liberty truly wireless headphones are still on sale for $80, down from $100. These run for 3.5 hours untethered, but the included battery case packs in an extra 24 hours for recharging on the go.
---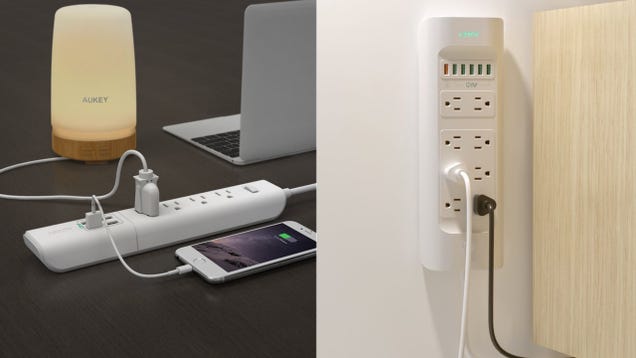 Half the things you plug in these days probably plug into USB ports, so it only makes sense for power strips to incorporate them. Today on Amazon, you can get an 8-AC outlet/6-USB strip with Quick Charge 3.0 for $29, or a 4-outlet/4-USB model for $16. Just be sure to note the promo codes.
---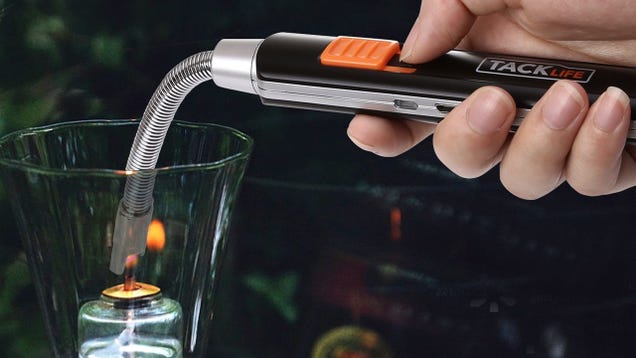 It's 2017, and your lighter doesn't need fuel anymore, it just needs to recharge over USB. This flexible neck model is just $12 with code C2YFTPRG, is perfectly designed for lighting candles, and can spark 400 times on a charge from its 220mAh battery.
---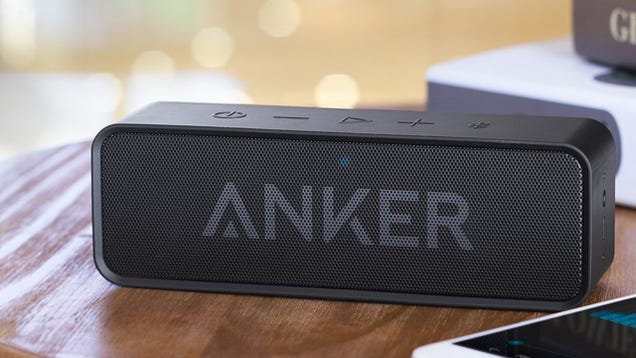 Anker's reader-favorite SoundCore Bluetooth speaker spawned a whole line of products, but the original model is still great, and it's never been cheaper than it is right now.
The SoundCore's headlining feature is its 24 hour battery life, and in my experience, that's a conservative estimate. It also packs in dual 6W drivers for room-filling sound, and looks pretty great to boot. It's been mostly selling for $30 lately, but you can get it for a stocking stuffer-friendly $24 today, no code needed.
---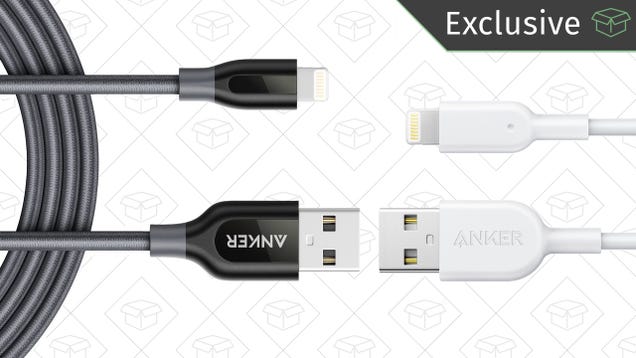 A really good Lightning cable is a great stocking stuffer for any iPhone owner, and two of the best are on sale right now.
Your options are a 6' nylon-braided PowerLine+ cable for $13 (no code needed), or a 3' PowerLine II cable for $10 with promo code KINJA843. The braided shell of the PowerLine+ will feel nicer, but the PowerLine II comes with a lifetime warranty, so you can't go wrong either way. Both are offshoots of Anker's reader-favorite PowerLine product line, and either one will make Apple's first party cables feel like cheap toys.
USB-C device owners, there's a deal here for you too.
---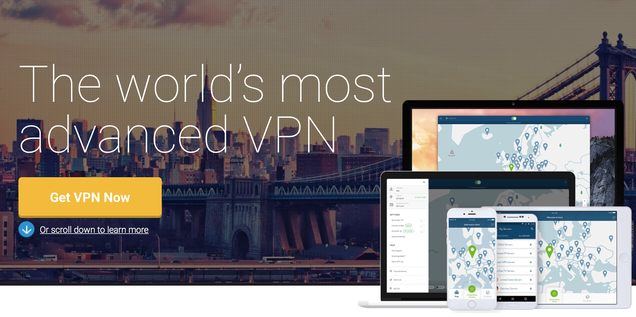 VPNs are in the news these days, and with good reason. So if you're curious to sign up and start protecting your browsing history and personal data (or, you know, getting around websites' geoblocks), NordVPN charges less per month than a typical trip to Starbucks.
NordVPN has long been one of the most popular and reliable VPN providers out there, and if you sign up for a one-year membership, promo code VIP70 will drop your annual price from $69 to $48. If you're sure you want to commit, use this link to get a special two year plan for $79 with code 2YSpecial2017, or this link to get three years for $99 with code 3ydeal. Lifehacker has recommended Nord in some previous guides, but if you have any firsthand experience with the service, sound off in the comments!
Top Home Deals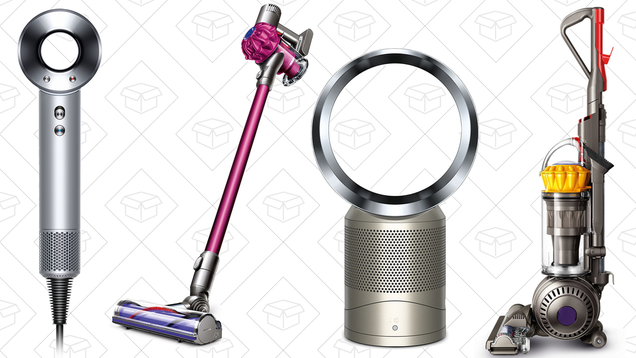 For a limited time, Dyson's eBay outlet is taking an extra 20% off any $25 order (maximum $50 discount) with promo code PHOLIDAY20, including vacuums, fans, and even hair dryers. They sell a lot of new stuff on eBay, but the best deals are on the refurbs. Either way, they're sold directly by Dyson; this isn't a sketchy third party situation.
My pick is the refurbished V6 Motorhead for $176. I bought the V6 Animal a months ago, and it makes quick work of all the pet hair on our furniture.
That same PHOLIDAY20 code will work with a number of other (admittedly less exciting) sellers as well, including Klymit, KitchenAid, Worx, and more, so check out the full list on this page.
---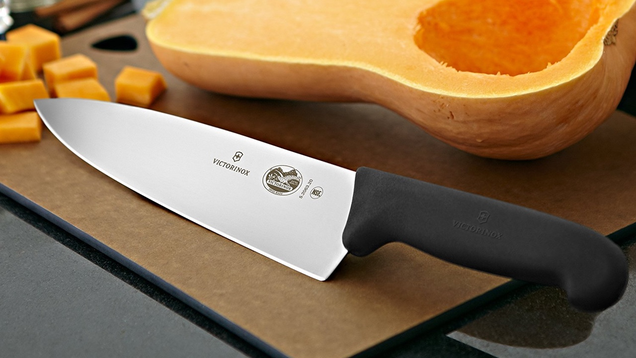 Victorinox's Fibrox 8" chef's knife is one of your favorite chef's knives period, and by far the best value in the industry. It's also the knife I've used almost every day for almost five years. Amazon has it for $31 right now, which is an absolute steal for the quality you're getting.
You can also get a four-knife Fibrox set for $104, if you want to upgrade your entire collection.
---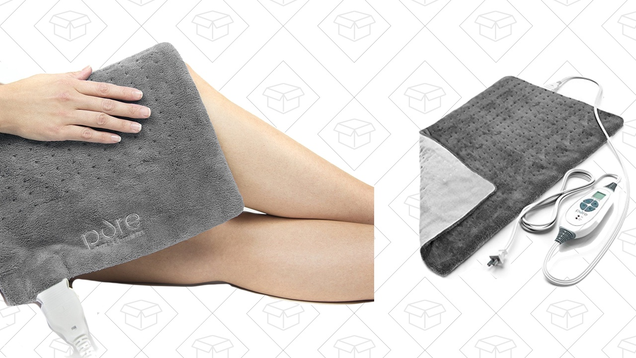 This extra large heating pad has six temperature settings, comes in two colors, and boasts an impressive 4.3-star rating with almost 3,000 reviews.
It typically sells for $35, so today's price of $28 is a sizable discount and the lowest price we've ever seen.
---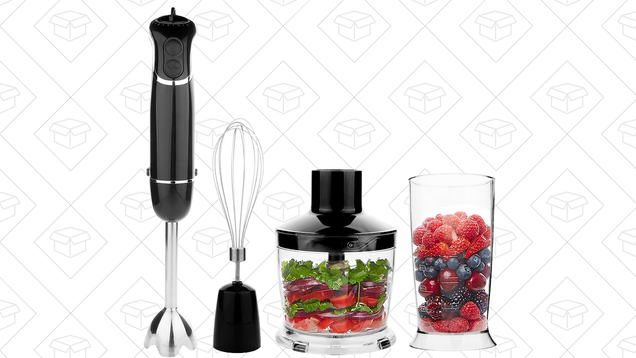 If you've ever thought about pulling out your blender to make a smoothie, sauce, or dip, and then held off because you didn't want to clean 12,537 different parts, this deal is for you. A highly rated OXA hand blender is $10 off, and comes with a variety of attachments.
The big advantage here is that unlike a traditional blender, you can dip a hand blender into whatever container you were already using to hold your ingredients; be it a single-serve cup or a huge mixing bowl. That saves you time, and means fewer dishes to clean up once you're done. This one though also comes with a whisk attachment, and even a food processor bowl that plugs right into the end of the blender, and includes its own set of food chopping blades.
---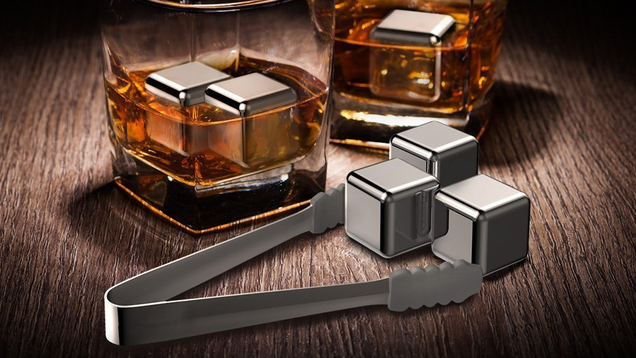 Give the gift of non-watered down whiskey with these discounted stainless steel reusable ice cubes.
Normally $15, you can take these home for just $10 with code KINJAW2E. This set comes with tongs and a tray, and they make great stocking stuffers. Cheers!
---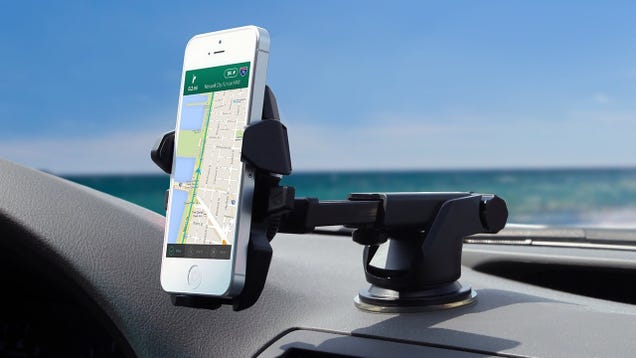 While suction cup-based smartphone car mounts have been largely supplanted by magnetic solutions, the iOttie One Touch 2 is a fantastic option for anyone who doesn't want to block a vent or use a case with their phone. If that sounds like you, speed over to Amazon to get it for $12, an all-time low.
---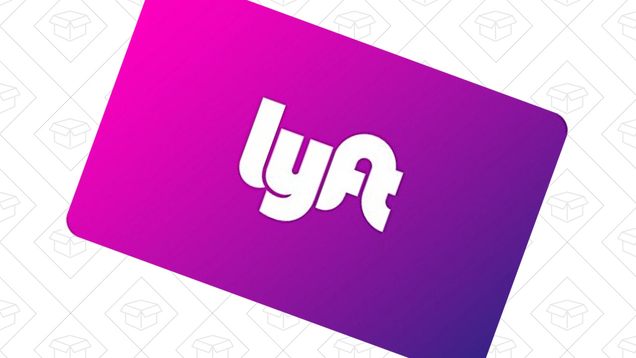 We've seen some deals in the past on Uber gift cards, but if you prefer to spend your money with the somewhat-less-evil Lyft, you can score a $50 card for just $45 right now from Amazon with promo code LYFT5. Even if you don't use it yourself, this would make a nice gift.
---
Thousands of our readers have bought Dremels over the years, but if you need some new accessories to tackle a specific job, or if the sanding attachments that yours came with are starting to wear down, these official Dremel accessory kits are all on sale today.
---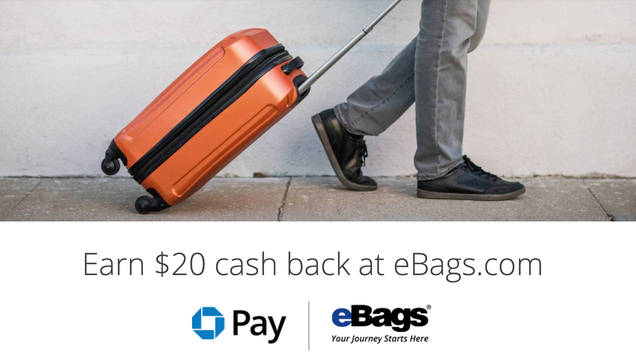 Similar to the special Walmart and Best Buy Chase Pay promotions we shared a few weeks ago, you can now get 2,000 Chase points (worth $20 in cash back at a bare minimum) when you spend $20 at eBags and use Chase Pay to check out. Terms and conditions here and here.
At a base level, if you find something for around $20—like this TRTL travel pillow, or these packing cubes—and use this promotion, you'll almost be getting your purchase for free.
But if you have either a Sapphire Preferred or Sapphire Reserve card, the points you earn from this promotion can be used for travel rather than cash back, meaning they could be worth a lot more than $20. For example the Sapphire Reserve allows you to book travel directly at a rate of 1.5 cents per point, making this promotion worth a minimum of $30 in travel. And if you find a really good partner redemption (like I did for my trip to Hawaii), it could be worth a lot more.
Just be sure to hit the Chase Pay button at checkout, and use either a Chase Freedom, a Freedom Unlimited, or a Sapphire Preferred card to pay. It doesn't appear that the Sapphire Reserve is eligible, though once you get the points, you can transfer them into your Reserve account for travel redemption purposes.
---
---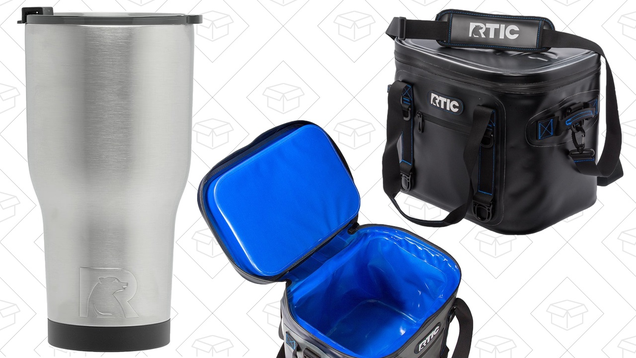 RTIC's top-selling 30 ounce vacuum insulated tumbler just got a design refresh, and the new model is down to an all-time low $8 on Amazon right now. I don't think I've ever met someone who didn't love these things, so it'd make a great little gift.
RTIC also makes our readers' favorite coolers, and all three sizes are on sale for about $18-$25 less than usual, in a variety of new colorways. I have the 20-can model, and yes, it really does keep ice frozen for days on end.
---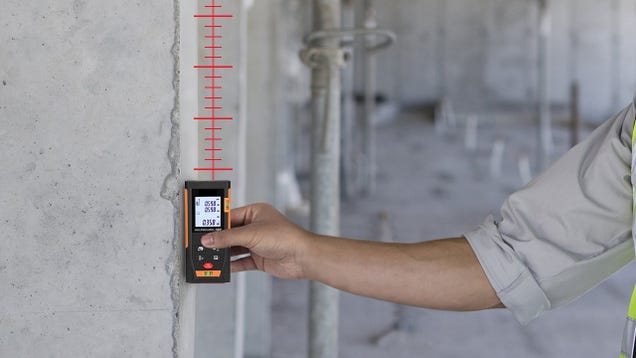 Only luddites use tape measures anymore. This laser distance measurer takes instant distance readings of up to 131', and includes several built-in area calculation functions, in case you're a little rusty on your middle school geometry.
---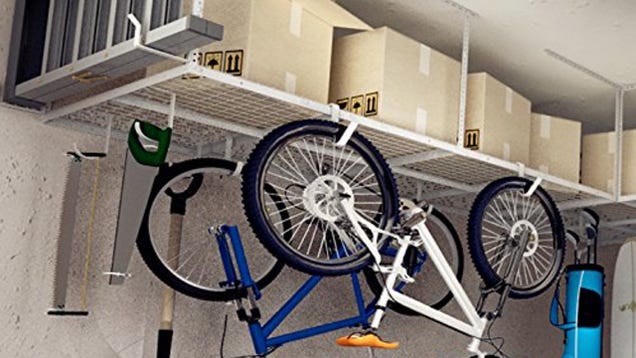 Why pile boxes up on the floor of your garage when you can pile them up on the ceiling? This 4' x 8' Fleximounts overhead storage system can hold all of your holiday decorations once it's time to put them away, plus a lot of other stuff too. Its height is even adjustable from 22" to 40", so you can optimize it for storage space or headroom, depending on your needs. Just be sure to use promo code XMASHOME at checkout to get it for $148.
---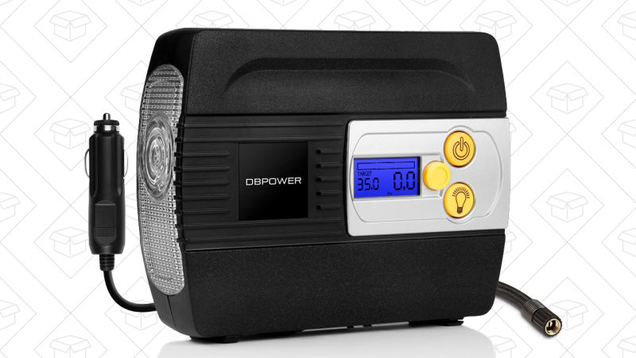 Forget trying to find quarters under your car seat and paying way too much for 3 minutes of air, and get this $22 tire inflator with code 975WIE8H. You can fill up your tires whenever and wherever you please for free. Keeping your tires properly inflated helps improve gas mileage so this guy will basically pay for itself. It also works on bike tires.
---
https://kinja.com/ajax/inset/iframe?id=twitter-938124487962382338&autosize=1
---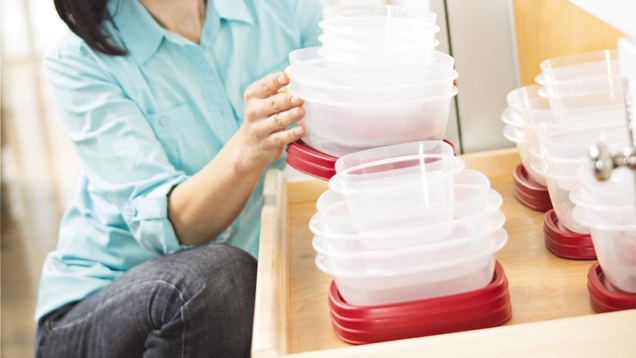 If you've ever spent more than 5 seconds sorting through your mismatched food containers to find the right lid, it's time to throw them all out and upgrade to the uber-popular Rubbermaid Easy Find Lid system.
These containers come in six different sizes, and yet you only have to deal with three different lids, making it much easier to find the right one. The 42 piece set is on sale for $15 today on Amazon. We've seen better prices in the past, but this set has been selling for around $20-$24 pretty consistently this year, so you're saving between $5 and $9. Not too shabby.
---

If you need a little extra help getting your house together for holiday guests, let Amazon pitch in for $30 less today.
For cleaning services, you simply select the size of your home. For handyman services, you estimate how many hours you'll need them and note whether they'll be inside or outside. Examples of applicable handyman jobs might be installing a garbage disposal, mounting a TV, or drywall repair. For both services, you'll see the $30 discount at checkout.
Unfortunately, Amazon isn't set up with providers everywhere in the country, but if you live in a covered area, this is as great deal.
Just note that you'll have to complete the checkout process with the local provider by 12/21, and you'll have to schedule service within 90 days.
---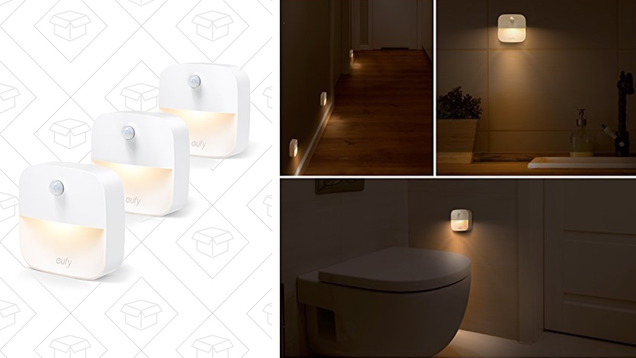 Anker makes night lights, and they don't even have to be plugged into a wall. You just stick them anywhere, they turn on when it's dark enough and they detect motion, and you can get three of them for $11 today with promo code NIGHT999.
Just note that they run for up to a year on three AAA batteries each (not included), so you'll want to pick up some rechargeables.
---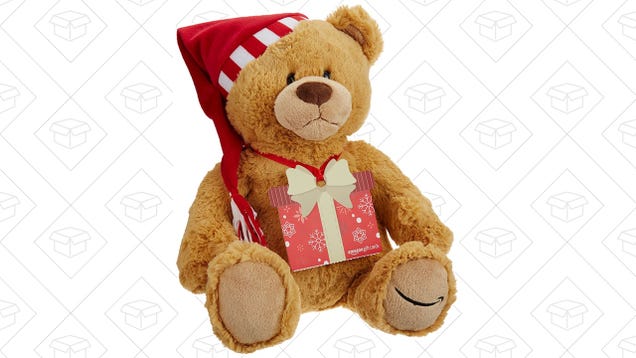 Every year around the holidays, Amazon offers a limited edition teddy bear when you order gift cards of certain denominations, and it never lasts long. 2017's bear just went live on gift cards ranging from $100-$500, so lock in your order before they're all adopted.
Note: This is exclusive to Amazon Prime members.
---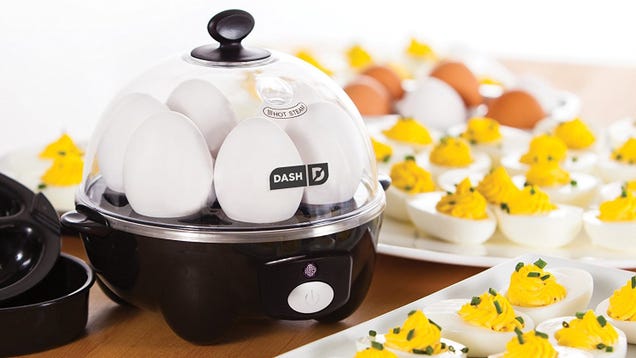 Update: This deal is back if you missed it over Black Friday.
Cooking eggs isn't exactly rocket science, but I'd say the ability to make soft, medium, and hard boiled eggs, plus omelettes and poached eggs at the touch of a button is worth $16. The Dash is Amazon's top-selling egg cooker, and carries a stellar 4.5 star review average from nearly 4,500 customers, so get it while it's on sale today!
---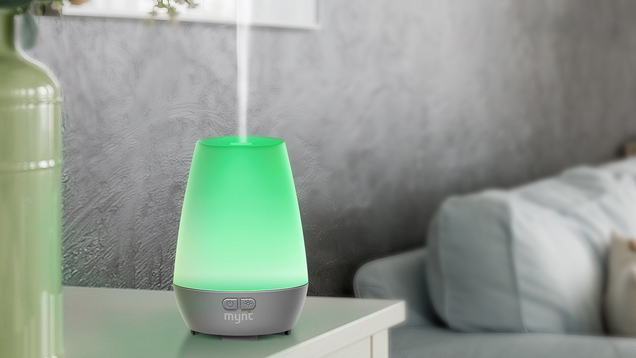 Update: This is featured as a lightning deal right now for $13, but if you miss that, the promo code (MYNT3173) should bring it down to the same price.
I was in the camp of people who felt like aromatherapy diffusers were glorified Glade plug-ins. And they are to some extent, but the fact you can use natural essential oils to create the scent, rather than whatever Glade uses, is a real game changer. The peppermint and eucalyptus scents can help with migraines and sinus headaches as well help humidify the air during drier winter months.
This diffuser is just $13 (with code MYNT3173), has two different aromatherapy settings (intermittent and continuous mist), and doubles as an LED light with seven color options. Throw in this 8 pack of essential oils and you're all set.
---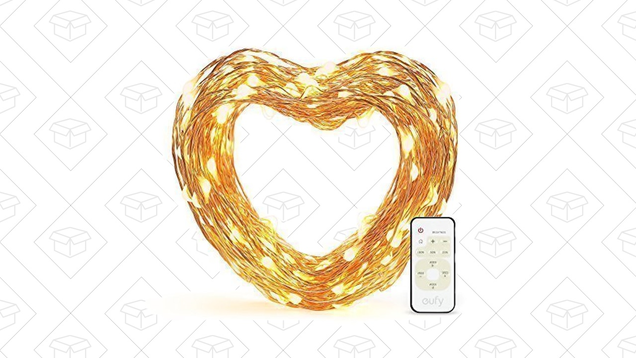 We posted a deal on these best-selling 33' string lights last week for $8, but today's deal at $10 (with code XMASLIT2) includes the remote, which allows you adjust the brightness, set the twinkling speed, or simply turn off and on. So grab a couple of strands before this deals burns out.
---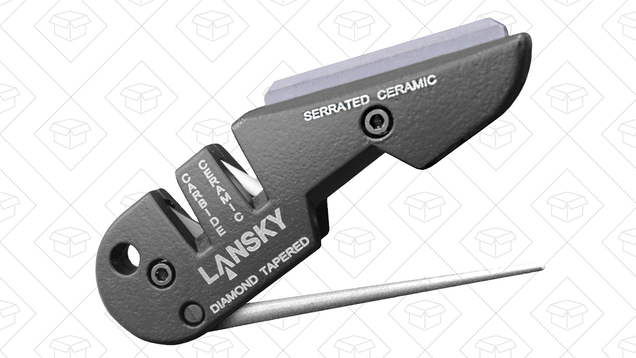 No matter how great your kitchen knives are, they all need some tender loving care from time to time. This $7 Lansky BladeMedic includes two v-sharpeners, a fold-out sharpening rod, and a ceramic sharpening edge for serrated knives, all in a handheld package that can fit into any kitchen drawer.
This thing amazingly has a 4.6 star review average from over 3,000 customers, and it's sold out within a few hours every time we've posted it at this price, so I wouldn't wait.
Top Lifestyle Deals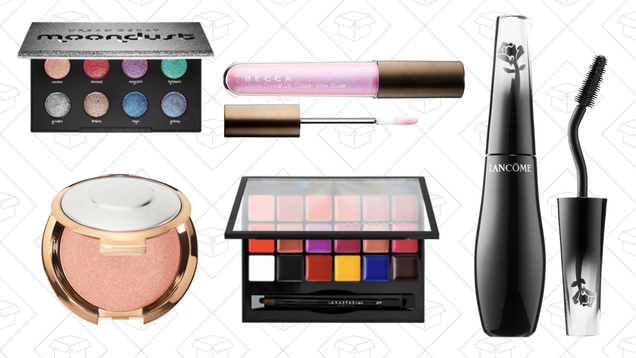 Sephora isn't known for their discounts and deals like other retailers, but they're trying something new this year with their Weekly Wow deals. Every Thursday, Sephora will drop a bunch of deals and offers for one week only. This week features:
---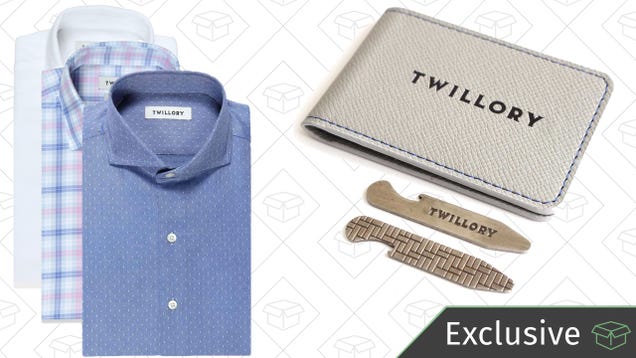 "No-iron shirts" have been around for so long that it seems almost ridiculous to buy anything else. Twillory takes that notion one step further by taking that no-iron notion and adding a bespoke feel.
These deals are all $10 more expensive than Black Friday, but with all three deals, you can add a set of Twillory's unique bottle opening collar stays to your cart to get it for free. These stays sell for $19, and make great gifts, so you're coming out ahead.
Two shirts for $99 with code KINJA2 
Four shirts for $179 with code KINJA4 
Five shirts for $209 with code KINJA5
Those codes should work with all the shirts they sell, so mix, match, and get creative (and don't forget those collar stays). Shane reviewed these shirts over on Gear, so head over there to learn about what makes them so great.
---
Now is the time to get the hell outside, mainly because the weather is mild, but also because our president is hellbent on getting rid of public lands and you may not be able to hike anywhere by next year. So, REI is helping you get outside with an extra 25% off all their sale items, no code needed.
---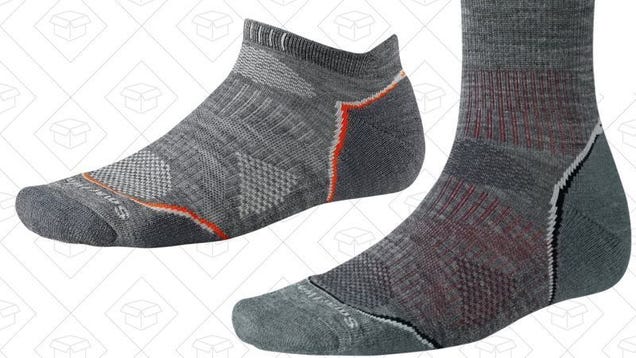 Smartwool easily socked it to the competition when it came to finding out what your favorite everyday socks are, and with good reason: they're kind of awesome. The downside to their awesomeness is they're on the pricey side. But right now, use the code SMARTWOOL3 and get 33% off any three pairs of Smartwool socks on Jet.com. Just add your three favorites to the cart, enter the code, and get ready for warm feet.
---
The perfect sale for the Star Wars fan on your list has arrived from a galaxy far, far away.. ThinkGeek is taking up to 70% off over 120 items, including that Sphero BB-8 that everyone knows and loves (and the R2-D2 counterpart). Apparel, home goods (like tiki cups or a french press), toys, and so much more are on sale, so change your plans of going to Tosche Station to pick up some power converters and get to spending your portions dollars.
---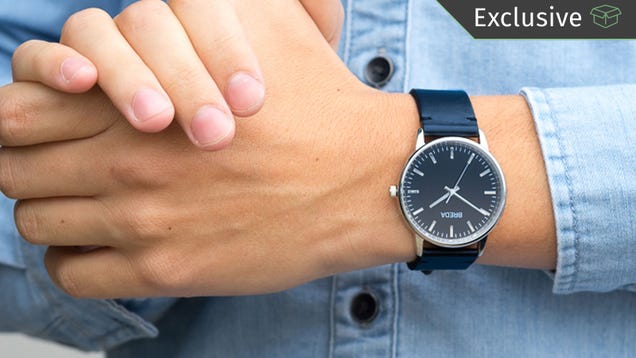 If you don't know about Dallas-based Breda, you need to. The watch brand creates minimalist, easy-to-wear styles of watches that aren't overworked or over priced. And we've got an exclusive discount in time for the holidays. Use the code KINJA50 and grab any colorway of their sleek Zapf style watch for just $50.
Top Media Deals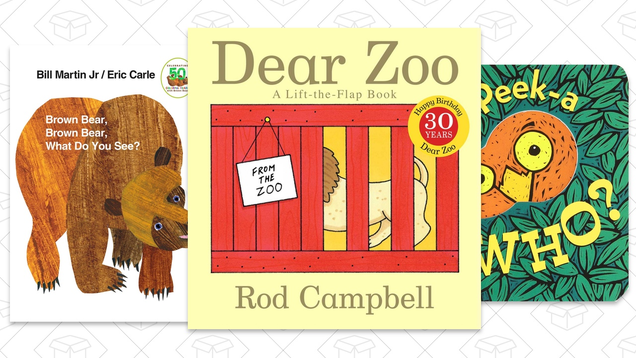 If there are any new parents on your holiday shopping list this year, several classic children's books are on sale for all-time low prices right now, plus Prime shipping.
h/t Shep's Mom
---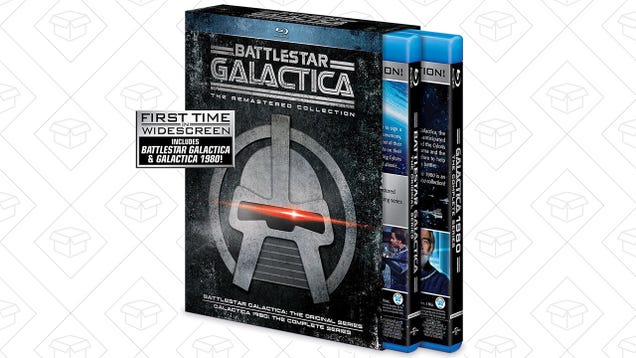 You might have seen the modern take on Battlestar Galactica, but if you're curious about the 1978 original, the complete series is remastered, and just $26 on Blu-ray today. That's a frakking good deal.
---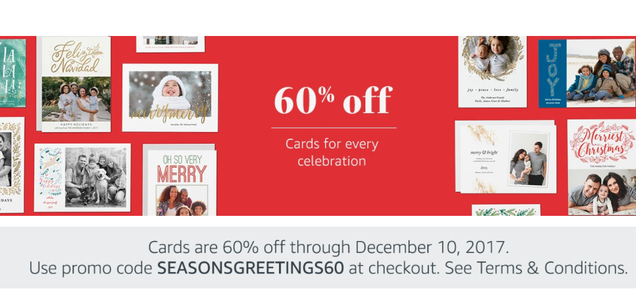 The count down has begun. If you plan on sending out holiday cards, you have less than three weeks left before Christmas. Amazon is helping you out by offering 60% off cards with code SEASONSGREETINGS60.
Although this deal is set up to benefit holiday-card senders, anyone who plans ahead can take advantage since their entire selection (not just holiday cards) are eligible for the discount. So if you know of any event in the future that you might to need order cards for like, baby shower invites, thanks you cards, or save the dates, stock up now. They have pre-made templates to select from or you can upload your own design. This deal lasts through December 10th.
Top Gaming Deals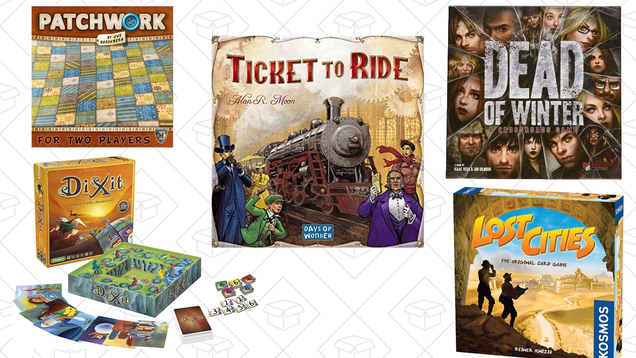 If your board game collection is gathering dust, it's time to freshen up your options with Amazon's one-day Gold Box deal.
Over 50 games are available, including popular titles like Ticket to Ride, Patchwork, Dead of Winter Crossroads, and Lost Cities, just to name a few. Just note that like all Gold Box deals, these prices are only available today, and the best stuff will likely sell out early, so don't roll the dice by waiting.
---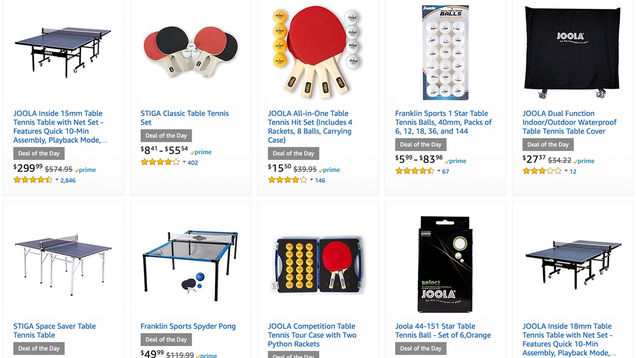 If you've always wanted a ping pong table, today's the day to get one, as several different models are on sale on Amazon, along with all the accessories you need.
It's going to sell out soon, but there's also something here called Spyder Pong, which looks fun as hell.
---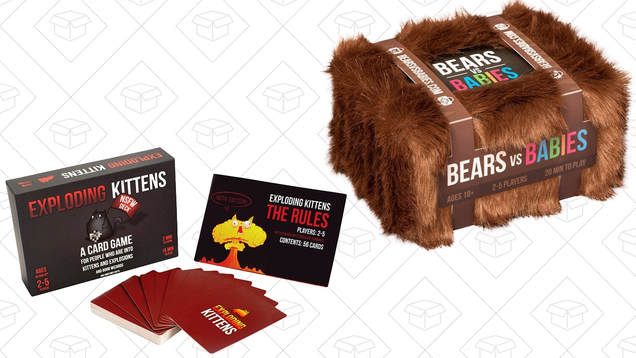 You know the guy that makes The Oatmeal webcomic? He does card games too, and two of them are cheaper than ever on Amazon right now.
The newer Bears vs. Babies is probably worth $21 just for the furry box, but once you open it up, you'll find a family-friendly monster-building game that you can get through in just 20 minutes.
For an adults-only experience, Exploding Kittens NSFW Edition is down to an all-time low $16 as well. This once broke Kickstarter records, and boasts a 4.3 star review average from nearly 4,000 customers.
---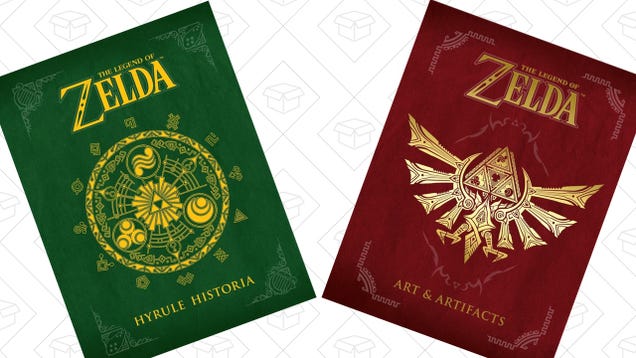 Have any Nintendo fans that you need to cross off your shopping list? Both the Legend of Zelda Hyrule Historia and Art & Artifacts hardcover books are down to their best prices in months right now. Both are less than $20, and include hundreds of pages of exclusive Zelda art, lore, and fan service.
---
If you missed out on Black Friday's PS4 Pro discounts, you've got another chance right now on Amazon, albeit with a slight catch. All you have to do is trade in pretty much any video game, console, or gaming accessory; even old stuff that nobody wants anymore. Once your trade-in is accepted, Amazon will give you the value of the trade, plus a $50 bonus towards a new PS4 Pro console.
The console was a straight $50 off during Black Friday, so this deal is basically the same if you're willing to put in a little bit of legwork.
Tech
Storage
Power
Audio

Home Theater
Computers & Accessories
Mobile Devices

Photography
Home
Kitchen
Tools & Auto
Lifestyle
Apparel
Camping & Outdoors

Fitness
Media
Movies & TV
Books
Gaming
Peripherals
PlayStation 4

Xbox One
Board Games

Toys
---
Vía https://deals.kinja.com/thursdays-best-deals-board-game-and-pc-gaming-gold-box-1821078140 ʕ ᴖᴥᴖʔ Subscribe to me here on Youtube!