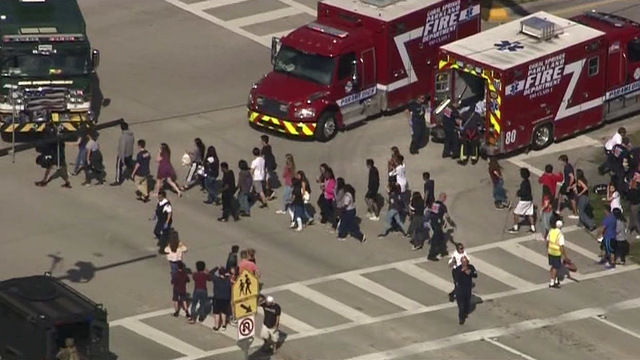 A mass shooting has been reported at a high school in Parkland, in Broward County, Florida.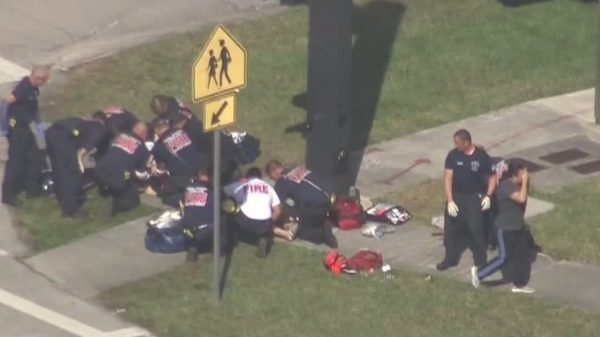 Images on live news coverage show children being marched out of the school, in single file lines, with snipers and SWAT vehicles all around.
No known figures on dead and injured.
From WSVN 7 News, Florida:
Margate Fire Rescue has deemed this a mass causality incident, which means at least 20 people have been injured.

The Broward Sheriff's Office sent out a tweet Wednesday, just before 3 p.m., calling this an "active shooter" situation.

The shooter was described as wearing a black hat, a maroon or burgundy colored shirt and black pants. He was last seen on the west side of a three story building on campus.

As 7 Skyforce arrived on the scene, one person was seen being wheeled into a Coral Springs Fire Rescue ambulance, but he was on his phone.

However, soon after, at least four other people were spotted surrounded by fire rescuers, at the corner of an intersection at the north part of the school

The extent of injuries remain unknown.

Several students could be seen walking and running along the road, past those injured.

Coral Springs Police are asking people to avoid the area, as a perimeter is in place, which extends to a nearby Walmart, and the evacuation continues.
from Boing Boing https://boingboing.net/2018/02/14/news-mass-shooting-at-parklan.html